ENDE- the transport by trailer experts, has just transported a car by trailer from Hungerford, Wiltshire to Norfolk .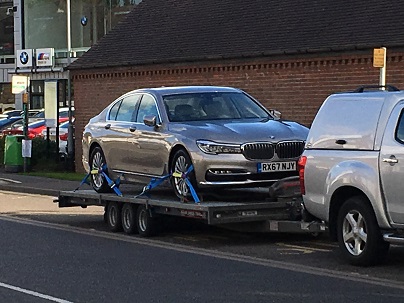 Ende Ltd has just transported a BMW 740d car by trailer from a dealer in Hungerford, Wiltshire and safely delivered it to a customer in Norfolk.
Van and Car Trailer Transporter by ENDE Ltd
ENDE Ltd are specialists in transporting cars, vans and vehicles up to 2500 kgs in weight in a professional, reliable and cost effective manner. If you care about a vehicle – so do we!
Key car and van trailer logistical statistics:
Brian James Cargo Connect Trailer
Tri-Axle on 10″ wheels
3500kg Gross (with a payload capacity of 2500kg approx.)
Dimensions : 5.5m long x 2.25m wide
Tiltbed c/w long ramps.
Electric winch
Tracker
Fully Insured
So if you too want a car or van weighing less than 2500 kgs transported within the UK, swiftly and safely- and at a competitive rate please contact us via our GET A QUOTE form or email nick@ende.org.uk NOW !